Books from Alexandre Havard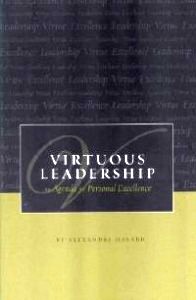 "VIRTUOUS LEADERSHIP"
New York 2007
Drawing on the lives of some of the greatest political, intellectual and religious leaders of modern times, and the author's personal experience, Virtuous Leadership defines each of the  human virtues most essential to leadership – magnanimity, humility, prudence, courage, self-control and justice. It demonstrates how these virtues promote personal transformation and the attainment of self-fulfillment. The book's final section, "Towards Victory"; offers a methodology for the achievement of interior growth tailored to the needs of busy, professional people intent on imbuing their lives with a transcendent purpose. Thus, the aim of Virtuous Leadership is ultimately practical. It is meant to be your guidebook in the quest for moral excellence.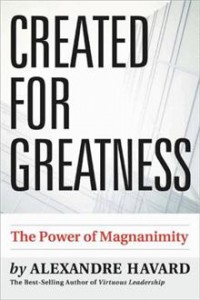 "CREATED FOR GREATNESS: THE POWER OF MAGNANIMITY"
Washington 2011
Buy from The Book Depository (The Book Depository is an international bookseller shipping books free of charge, worldwide, to over 100 countries.)
"Created for Greatness contains general pointers on how to achieve greatness and practical steps to follow. It is for those who really want to get down to brass tacks. Magnanimity is an ideal rooted in trust in man, and his inherent greatness. It is the virtue of action and entrepreneurship. It is the supreme form of human hope. Magnanimity is a virtue capable of setting the tone of one's entire life, transforming it, giving it new meaning and leading to the flourishing of the personality. Magnanimity and humility are the virtues specific to leaders. Magnanimity and humility are two words rich in meaning, possessed of extraordinary emotional and existential power, words that go straight to the heart because they embody a life ideal—the ideal of greatness and service. Magnanimity is the thirst to lead a full and intense life; humility is the thirst to love and sacrifice for others. Leadership is about achieving greatness by bringing out the greatness in others. It is a life ideal, which recognizes, assimilates and propagates the truth about man." The Author
 Critical Acclaim for Virtuous Leadership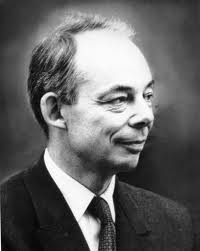 "I found Virtuous Leadership a fascinating book that goes straight to the heart of the matter:  we need to base our decisions on reality and the essence of reality is man himself."
Francois Michelin, CEO emeritus, Group Michelin.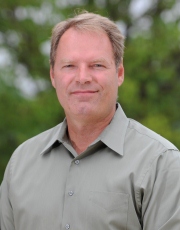 "Alex Havard's Virtuous Leadership, a plea to return to the classical virtues, reflects the ongoing resurgence in appreciation for the wisdom of the ancient Greeks and the early Christian Church, which served humanity well for two millennia.  I highly recommend this life-changing read."
Lee Deremer Colonel, USAF, Retired, Professor of Ethics and Strategic Leadership, U.S. Army War College, Carlisle, PA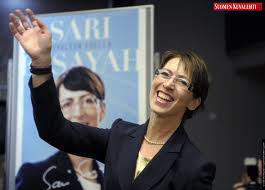 "Virtuous Leadership is a timeless book.  After you read it, you will find yourself citing its many brilliant phrases without even realizing it."
Sari Essayah, Member of the European Parliament and World Champion in Women's Race Walking (1993).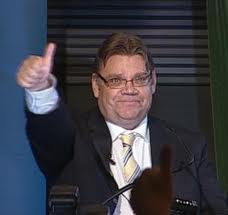 "In a complicated world, simplicity is priceless. Virtuous Leadership is full of brilliant insights.  It is highly topical and relevant."
Timo Soini, Member of the European Parliament.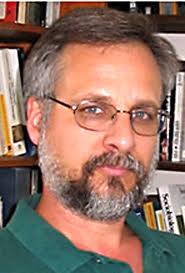 "Somebody has finally written a book about virtue for those engaged in the business world. Too many books spill out of the presses on being EFFECTIVE, on getting YOUR WAY, on making big bucks quick.  This book should be in every airport across Europe and America! (And ditch all the other quick-read, make-million business books that litter the bookstore shelves.)
Benjamin D. Wiker (Author of A Meaningful World: How the Arts and Sciences Reveal the Genius of Nature, 2006).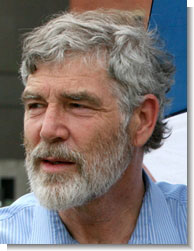 "Alexandre Havard's Virtuous Leadership is a book long-needed on every level of public life in the developed nations.  A vitally important and timely book."
Michael D. O'Brien (Author of Children of the Last Days).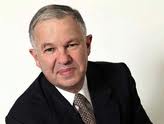 "Alexandre Havard gives us new reason to hope.  Above and beyond the method presented in this book, he makes us want to want, and to do so with enthusiasm, this intense emotion that impels us to action in joy."
Jacques de Chateauvieux, CEO of BOURBON and Chairman of the AXA Supervisory Board.
Publishers of Virtuous Leadership in the world:
1.    English, Scepter Publishers              
Virtuous leadership
2.    Russian, Институт Нравственного Лидерства
Нравственное Лидерство
3.    French, Le Sarment – Editions du Jubilé             
La Méthode Havard
4.    Estonian, Koge
Havard' i Meetod
5.    Finnish, Providentia Oy
Hyvejohtajuus
6.    Spanish, Palabra Ediciones
 Perfil del líder
7.    Chinese complex, CCLM Publishing
Virtuous leadership
8.     Chinese  simple, CASS
Virtuous leadership
9.     Polish, MSM studio
Etyka Przywódcy
10.   Slovak, Devin
Zodpovedné Líderstvo
11.    Brazilian, Quadrante Sociedade de Publicações Culturais
Virtudes & Liderança
12.    Italian, Lettere Animate Editore
Leadership Virtuosa
13.    Latvian,  Mieramtuvu
Lideris un tikums
Publishers of Created for Greatness in the world:
1. English, AuthorHouse
Created for Greatness  
2. Russian, Институт Нравственного Лидерства
Сотворенный для величия    
3.  French, Le Laurier
Créé pour la grandeur    
4. Spanish, Rialp
La dieta interior
5. Ukrainian, Apostol
 Створений для величi 
More Critical Acclaim
"My company—a global leader in providing technology-enabled business solutions and services in more than 90 countries—chose Virtuous Leadership as a central reference for its North American Public Sector leadership development program.  This book goes beyond media hype to the very heart of what true leadership is and provides crystal clear guidelines on how to develop and live it."
Chuck Taylor, Director, Office of Communications and Marketing, CSC
"A colleague of mine recently recommended a book, Virtuous Leadership that I just finished reading. I recommend it highly for the following reasons:
- as a leadership trainer of over 25 years and graduate of the premier leadership development institution in the world, US Military Academy at West Point, true leadership does boil down to character:  magnanimity (striving toward great things), humility, prudence, courage, and self-control.
- I 'dog-eared' the book at 34 different places. A CEO of a software company riding on airline flight with me noticed, and asked me about the book:  I replied that the amount of dog-eared pages to reference-later was a sign of the utility and relevance of the book to me.
Just look at the ethics crises we've experienced in white-collar crime, not to mention the denegration of families.  If you're a father, you need to read the book.  If you're a leader, it's a must read just like Seven Habits of Highly Effective People (Dr. Stephen Covey) or How to Win Friends & Influence People (Dale Carnegie).
Charles Breeding, breedingtrust.com
"I write you this message after having just finished your book, Virtuous Leadership, on a United airlines flight to Denver, Colorado. I cannot begin to thank you enough for your book and the wisdom contained within. My wife purchased it for me as a Christmas present. Little did I know it would dovetail with many other occurrences and influences during the present circumstances of my life, and the search that I continue on in terms of understanding God's call (…) Your book resonated with me deeply. I have had the good fortune of much «success» in my business career, but through this, have also fallen victim to many of the trappings that all too often slowly creep up and take us over as men as we go through our careers. Seeing the absolute void in true leadership within the business world not only in Canada, but also in my dealings around the globe, I believe your book could not be more timely. We are duping ourselves into thinking that if we have achieved worldly success, if we have provided a roof over the heads of our families and put groceries on the table, we're doing our jobs. All the while, we selfishly entertain passions and desires that destroy our souls. We sit idly by while women continue to be increasingly objectified in our modern culture. We ignore the fact that millions of lives are destroyed by abortion every year. We worship at the idols of sports and entertainment instead of spending quality time with our children. We need authentic men to lead us to the truth that we have so carelessly forgotten about."
Jason Randhawa, St. Albert, Alberta, Canada.
"Having taught business ethics to undergraduate students for the past five years, I don't think there is any other book in business ethics published in the English-speaking world that has managed to incorporate a most comprehensive vision of man following the Aristotelian-Thomistic tradition in the secular world of business and management. Congratulations Dr. Havard for this intellectually stimulating yet simple and easy to read book. I look forward to your next publication!"
Rose Catacutan, Institute of Humanities, Strathmore University, Nairobi Kenya
"It was my privilege to read Virtuous Leadership.  I was so moved that I spontaneously started to translate several chapters into Chinese and gave them to my friends to read. They all delved into the book and keenly hope it will be translated into Chinese in its entirety. I did my PhD at Johns Hopkins University, and experienced much of what you describe in the book – the pervasive influence of secular materialism and related Enlightenment values in modern society and the university campus.  I appreciate your defense of the classical virtues, as well as Judeo-Christian values, as the authentic basis for personal and professional excellence."
Lydia Yu, PhD, Taiwan
"I just read your book Virtuous Leadership, and I wanted to tell you I thought it was great. I am going to order a dozen to give out as gifts."
Danny T Bogar, Stanford Group Company, Regional Director, North America
"Recently I read the book Virtuous Leadership. It gave me a new perspective to contemplate my MBA studies and over 11 years of corporate life in various organizations including Nokia. I have followed the literature pretty well on leadership and still Virtuous Leadership helped me to find my voice. And I realized that this is the notion that I would like to stand for, live for and work for."
Krishna Bhandari, Nokia, Project Manager
"To speak of leadership in the same breadth as magnanimity strikes me as an excellent thing pedagogically. This approach can liberate leadership from the tyranny of rules-based ethics."
Jean-Marie Meyer, Prof. of Philosophy, Paris. Author of We are animals, but we are not beasts, Paris 2007.
"I would like to thank you for the informative, motivational and spiritual book you wrote. It is inspiring the way you have intertwined spiritual considerations with leadership and excellence."
Nicholas Kanyi, student, Strathmore University, Nairobi
"I have read the book. It is excellent. Your seminars on leadership using this guide or book make a real 'product'. Seldom (if ever) do you find in a text for managers a real discussion of 'virtue' and compelling reasons for doing good."
Dr Gabriel J Byrne, College of Business and Law, Smurfit School of Business, University College Dublin
"I thoroughly enjoyed your book and think Catholics in particular really need to hear what you have to say."
Carrie Gress, Ph.D. (cand.), Rome Bureau Chief, ZENIT English Edition
"I read your book. My first and enduring thought was: «Finally!» I'm intrigued by your mission and approach. What a wonderful and important work you are undertaking."
Edward Dennis, Counseling Ministry
"I read the book Virtuous leadership. I like it a lot and I found it rather practical and well focused. I am wondering if you have the Virtuous Leadership Seminars either in NY or anywhere else close by."
Natalia Nieto, Mount Sinai School of Medicine
"I am truly excited about the concepts you explore in your writings and their practical application in all types of work environment… Sorry for the rambling, but I am totally passionate about the subject."
María Blanco Pate, Director General/Executive Director, Alianza Cultural Uruguay-Estados Unidos
"Dr. Havard has assembled an excellent counter-balance to a number of books out there that focus primarily upon temperaments or dispositions in leadership. The book's strength lies primarily in the constellation of virtues he presents: magnanimity, humility, prudence, courage, temperance and courage. The author offers apt descriptions of the virtues and also numerous illustrations of the virtues in action. One would hope for more guidance on the appropriation of the necessary virtues, but it strikes the reader that the book is a summary of a further-reaching program delivered by the leadership institute directed by Dr. Havard."
Michael J. Byrnes
"Finally, a book on leadership that puts the horse before the cart — where it belongs. Leaders require followers and why should anyone follow a leader? There seems to be an eternal tension between followers and leaders because there is a clash or at least a confrontation of wills. A leader who depends on coercion or manipulative techniques may achieve certain objectives but only in a precise setting and given limited objectives. A military officer is handed position power and the force of authority along with assigned followers and may or may not bloom into a true leader over time. Likewise, a politician may rely on manipulation, personality, and scripted talking points to win office but that victory does not confer leadership status. The "better man" theory of leadership has survived through history. The question that often went unasked is how does one become a better man? Alexandre Havard teaches us that leadership is service and service is virtue in action. The natural virtues are developed through an act of will. Developing virtue molds character and forms a leader. The authority of a true leader stems from the character they display which gives rise to trust. The natural tension between leaders and followers dissolves because followers know that their leader has their best interests at heart and they recognize in the leader a role model for their own character development. I find it interesting that to the secular mind and also from the Christian perspective, the trait most often ascribed to leaders is "charisma". A charism is a gift conferred through the grace of God. The theological virtues of faith, hope, and charity are gifts of God. When they are combined with the natural virtues of judgment, courage, self-control, and justice plus the leadership virtues of magnanimity and humility, the result is a "better man" and a great leader. One does not need to be a CEO, NFL coach, or general to be a leader. We all function in a sphere in which leadership is desperately needed."
Bill Wruck
"Virtuous leadership is a book full of wisdom and inspiring examples. There is an urgent need for such a book. I highly recommend it" .
Baichong Liang, chairman of Ogilvy & Mather Group in Taiwan
"With determination anyone can, through continuous learning and practice, develop sound character and pursue exalted goals, making the world a better place through devoted service to others".
Cho Huotu, Chairman of the Board of Honda Foundation, Taiwan
"Behind my desk, there are four Chinese words: "Develop the virtue of magnanimity." I want to become a magnanimous leader. I know Virtuous Leadership will help me in this endeavor. I strongly recommend this book".
Cheung Tai Geda, General Manager of Taiwan Mobile
"This is a deep, easy-to-understand, and inspiring book".
Chen Weiwan, General Manager of Everlight Chemical, Taiwan