Books from Alexandre Havard

"VIRTUOUS LEADERSHIP" New York 2007 and 2014
Drawing on the lives of some of the greatest political, intellectual and religious leaders of modern times, and the author's personal experience, Virtuous Leadership defines each of the  human virtues most essential to leadership – magnanimity, humility, prudence, courage, self-control and justice. It demonstrates how these virtues promote personal transformation and the attainment of self-fulfillment. The book's final section, "Towards Victory"; offers a methodology for the achievement of interior growth tailored to the needs of busy, professional people intent on imbuing their lives with a transcendent purpose. Thus, the aim of Virtuous Leadership is ultimately practical. It is meant to be your guidebook in the quest for moral excellence.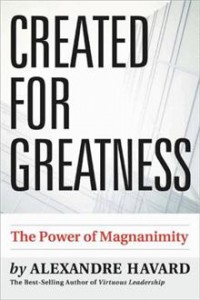 "CREATED FOR GREATNESS: THE POWER OF MAGNANIMITY" Washington 2011
Buy from The Book Depository (The Book Depository is an international bookseller shipping books free of charge, worldwide, to over 100 countries.)
"Created for Greatness contains general pointers on how to achieve greatness and practical steps to follow. It is for those who really want to get down to brass tacks. Magnanimity is an ideal rooted in trust in man, and his inherent greatness. It is the virtue of action and entrepreneurship. It is the supreme form of human hope. Magnanimity is a virtue capable of setting the tone of one's entire life, transforming it, giving it new meaning and leading to the flourishing of the personality. Magnanimity and humility are the virtues specific to leaders. Magnanimity and humility are two words rich in meaning, possessed of extraordinary emotional and existential power, words that go straight to the heart because they embody a life ideal—the ideal of greatness and service. Magnanimity is the thirst to lead a full and intense life; humility is the thirst to love and sacrifice for others. Leadership is about achieving greatness by bringing out the greatness in others. It is a life ideal, which recognizes, assimilates and propagates the truth about man." The Author

Critical Acclaim for Virtuous Leadership
"I found Virtuous Leadership a fascinating book that goes straight to the heart of the matter:  we need to base our decisions on reality and the essence of reality is man himself." Francois Michelin, CEO emeritus, Group Michelin.
"Alex Havard's Virtuous Leadership, a plea to return to the classical virtues, reflects the ongoing resurgence in appreciation for the wisdom of the ancient Greeks and the early Christian Church, which served humanity well for two millennia.  I highly recommend this life-changing read." Lee Deremer Colonel, USAF, Retired,Professor of Ethics and Strategic Leadership, U.S. Army War College, Carlisle, PA.
Professor of Ethics and Strategic Leadership, U.S. Army War College, Carlisle, PA  "Virtuous Leadership is a timeless book.  After you read it, you will find yourself citing its many brilliant phrases without even realizing it." Sari Essayah, Member of the European Parliament and World Champion in Women'sRace Walking (1993).
"In a complicated world, simplicity is priceless. Virtuous Leadership is full of brilliant insights.  It is highly topical and relevant." Timo Soini, Member of the European Parliament.
"Somebody has finally written a book about virtue for those engaged in the business world. Too many books spill out of the presses on being EFFECTIVE, on getting YOUR WAY, on making big bucks quick.  This book should be in every airport across Europe and America! (And ditch all the other quick-read, make-million business books that litter the bookstore shelves.) Benjamin D. Wiker (Author of A Meaningful World: How the Arts and Sciences Reveal the Genius of Nature, 2006).
"Alexandre Havard's Virtuous Leadership is a book long-needed on every level of public life in the developed nations.  A vitally important and timely book." Michael D. O'Brien (Author of Children of the Last Days).
"Alexandre Havard gives us new reason to hope.  Above and beyond the method presented in this book, he makes us want to want, and to do so with enthusiasm, this intense emotion that impels us to action in joy." Jacques de Chateauvieux,CEO of BOURBON and Chairman of the AXA Supervisory Board.
Publishers of Virtuous Leadership:
1.    English, Scepter Publishers  Virtuous leadership   2.    Russian, Институт Нравственного Лидерства Нравственное Лидерство   3.    French, Le Sarment – Editions du Jubilé  La Méthode Havard   4.    Estonian, Koge Havard' i Meetod    5.    Finnish, Providentia Oy Hyvejohtajuus    6.    Spanish, Palabra Ediciones Perfil del líder    7.    Chinese complex, CCLM Publishing Virtuous leadership    8.     Chinese  simple, CASS Virtuous leadership    9.     Polish, MSM studio Etyka Przywódcy    10.   Slovak, Devin Zodpovedné Líderstvo    11.    Brazilian, Quadrante Sociedade de Publicações Culturais Virtudes & Liderança    12.    Italian, Lettere Animate Editore Leadership Virtuosa    13.    Latvian,  Mieramtuvu Lideris un tikums
Publishers of Created for Greatness:
1. English, AuthorHouse Created for Greatness   2. Russian, Институт Нравственного Лидерства Сотворенный для величия     3.  French, Le Laurier Créé pour la grandeur     4. Spanish, Rialp La dieta interior    5. Ukrainian, Apostol  Створений для величi